7 Overlanding Tips To Enhance Your Adventure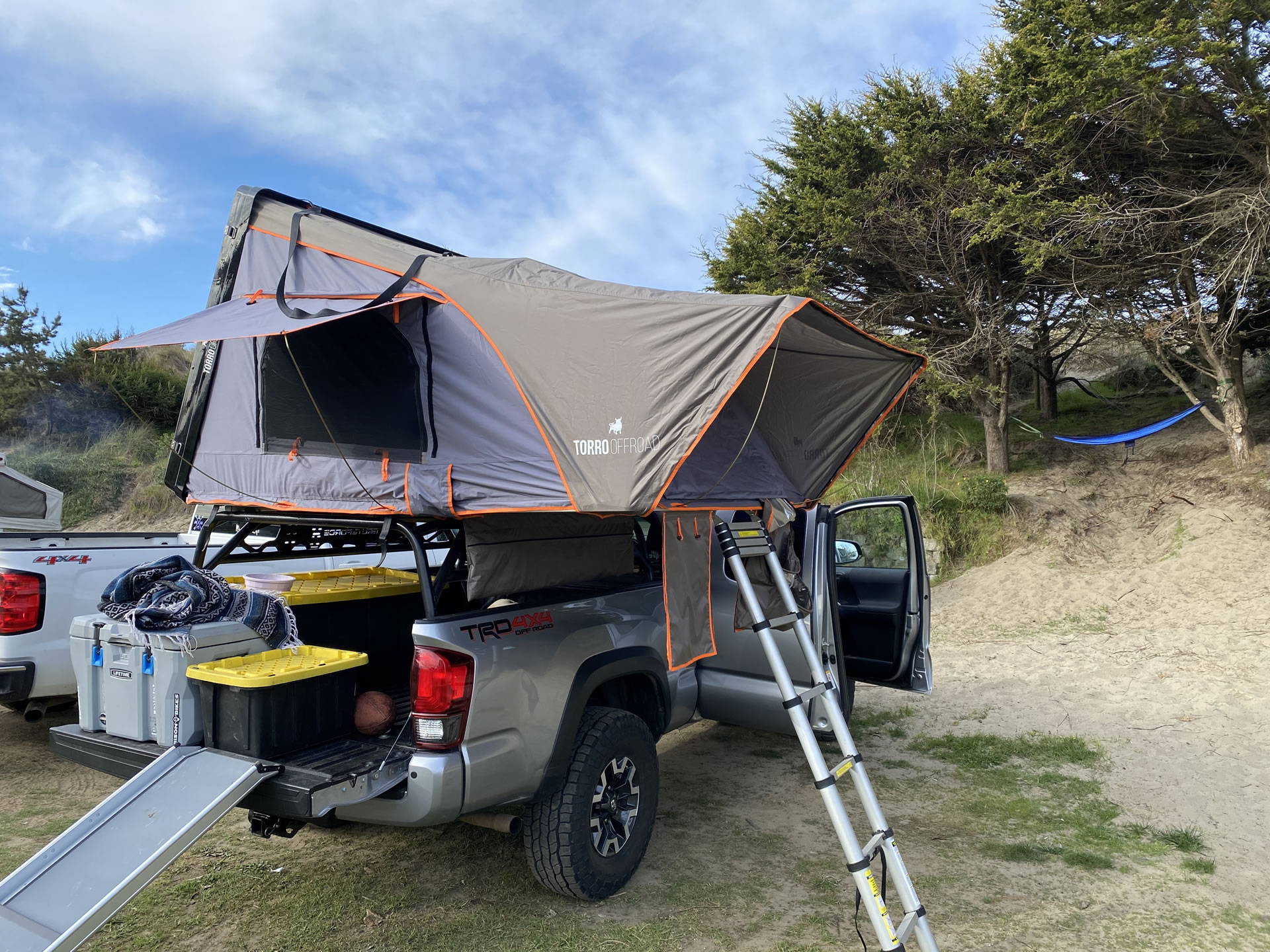 There's camping and then there's overlanding.
They're not the same and any hardcore overlander worth his rig will be more than happy to tell you the difference.
One of the important distinctions is the level of preparation required – both mental and "physical," i.e. your vehicle and your gear.
Overlanders are off-the-grid and self-reliant (we don't need no stinkin' port-a-pots). They venture into the truly unknown with a smile on their face and the excitement of survival pouding in their chest. (Yeah, it's bada$$. What did you think "hardcore" meant?)
Overlanding is all about adventure, but that doesn't start when you arrive at a specific destination. The journey IS the adventure. (I know, it's deep. Take a minute, if you need to.)
Here are some tips to keep in mind before and during your venture that will make it even more enjoyable for you and your traveling companions – but no less hardcore.
1. Plan for Your Vehicle to Fail
Even if you're just starting out in the overlanding world, you know that it requires a certain kind of vehicle: A 4x4 that can withstand the rigors of driving off-the-beaten-track.
Don't try to toss a rooftop tent on your '02 Honda Civic. It won't go well.
Familiarize yourself with how the vehicle handles on different types of terrain, including sand, loose gravel, mud, slush, and anything else that you can think of.
Another important factor is knowing how to do basic repairs.
Picture this: It's 6 p.m. The sun is going down, your vehicle breaks down and you can't leave the trail. Or go anywhere, for that matter.
What will you do?
There's nothing that kills an adventure quite like breaking down in the heart of the wilderness with no tools and/or without the know-how required to handle an issue.
Two of the most common occurrences are getting a flat tire and getting stuck.
Make sure you know how to change the tire on your vehicle well before you find yourself on the trail with a flat. It's not the ideal place to learn.
You can use a little ingenuity to get yourself unstuck, too. You can use the same jack you used to change the tire to lift your vehicle off of a rock, and you can use your floor mats to get traction when your wheels are stuck in snow or mud.
2. Don't Drive Where You Can't See
Yes, your rig is rugged. But it's not indestructible.
Hardcore overlanding requires a skill referred to as "trail vision."
When you're driving on largely-untraveled territory, look as far ahead as you can, because it's important to know what's coming, for a couple reasons:
1) So you can adjust gears as necessary, depending on the terrain  
2) So you don't drive off a cliff or into a lake. (Hey, it happens.)
Keep your line of sight high, take it slow, and don't drive where you can't see.
Some of you extra-hardcore overlanders may need this reminder: Turning back isn't failure. Know your limits and don't go further than your food supply, fuel level, good sense allow.
3. Don't Schedule Every Minute
Planning ahead is necessary, especially if your trip is taking you to a national park that requires reservations, for example.
But, you'll be missing out on a whole lot of adventure if you don't leave room for spontaneity and last-minute side-trips just because a path looks enticing.
Remember, when you lock yourself into being a specific spot every night/day, you'll lose some of the excitement of discovery that's the reason you got into this hobby in the first place.  
4. Bring Along A Travel Companion

Maybe the idea of a solo getaway is appealing. That's your prerogative. But keep in mind that the overlanding life isn't always full of breathtaking views and rainbows.
Sometimes it rains. Sometimes tires go flat. And sometimes other random snags get in your path that cause you to spiral into a stress monster.
Your journey (remember, it's the real adventure) will be a whole lot more fun, exhilarating, and memorable when you have a travel partner who can help lift the mood (or something heavy you can't lift alone).
5. Know Where You're Going, But Leave Room for Adventure

Of course, you need to know that your vehicle can handle the terrain you're traveling over, but think beyond your vehicle, too.
For example, be sure to choose an area with hiking trails to trek through. Allow yourself room for variance in your exploration, because the more experiences you have, the better you'll understand the land, nature, and your ability to thrive in a natural environment.
Sometimes you'll score big by finding a hidden gem, like a beautiful lake, that wasn't on the map.
6. Travel With The Right Gear

Having a great rig is one of the most essential aspects of overlanding.
You simply can't (and shouldn't try it) without some of the things that will make your experience safe and enjoyable.
Here's are the must-haves.
Having a great rig is one of the most essential aspects of overlanding.
You simply can't (and shouldn't try it) without some of the things that will make your experience safe and enjoyable.
Here's are the must-haves.
Paper maps have gone the way of flip-phones and compact discs.
There's no reason you should be traipsing around in the wild without a tried and true GPS device. They're kept up to date and even have large databases of rarely-traveled trails.
While your rooftop tent may be nice enough to live in for a while, you don't want to be forced to because you were lost.
A Water-Purification Device

You can take jugs of water with you, of course. But you'll probably use it up faster than you thought you would.
It's always a good idea to have a way to "make" drinking water in a pinch. There are devices available that will remove 99.99% of bacteria, viruses, and other dangerous "things" in water.
Plus, they can remove dirt, sediment, and silt.
Your GPS won't do you much good if it's dead.
An electric generator can supply the power you need to charge your devices, power lights, and even run a portable refrigerator, if you're that fancy.
Suffice it to say, there's a lot that you can use this power source for to add to the enjoyment of your experience.
A Satellite Communication System

You can't trust your cell phone to have service when you're adventuring in unknown territories.
This type of device lets you keep in touch with anyone, no matter where you are. In an emergency, location tracking and sharing are invaluable and could be life-saving.
This is skill is an important one to have in your arsenal.
You should generally be with people, but if you have to separate, you need to be able to communicate your position with others.
After meeting some general licensing requirements and paying a small fee, you'll get a GMRS / Amateur Radio technician license. You want to have at least a GMRS license that covers radios that can go up to 50 watts, which equals miles of communication.
You can always increase your license as you need to go further.
7. Prepare For Protection

Most bears are friendly – some are hungry. Don't be the one to find out which is which.
Know what types of wildlife are common in the area you're going.
Whether it's bear spray, some kind of knife, or another type of protection, make sure you have the ammunition you need in case of an animal emergency you can't control.
Take "Tread Lightly" to heart. It enhances not only your experience, but also everyone else's.
Make Your Journey A Safe, Memorable Adventure

With these tips and tricks, you're ready to tackle your next off-the-beaten-path, rugged overlanding adventure.
Make sure you have the gear you need, a trusted travel buddy, and the know-how to take care of common vehicle issues.
Don't over-plan and don't drive where you can't see.
---